Posted on September 5th, 2017 by Patrick Sands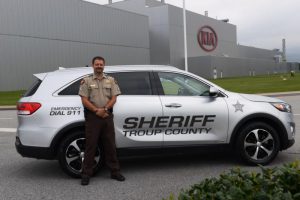 LaGRANGE, Ga. – Sgt. Stewart Smith, the Troup County Sheriff's Office's public information officer, has been attracting more attention than normal as he rides through the county thanks to a new West Point-built Kia Sorento that has recently joined the sheriff's office's fleet.
"The comments about this vehicle have been very positive and we are happy to have a partner like KMMG (Kia Motors Manufacturing Georgia)," said Smith. "I can definitely say that the Sorento is a very quality car that has held up well and has the giddy up and go when I need to be somewhere fast."
Smith stays busy in the Sorento, going anywhere from crime scenes to escorting the Troup High School football team for road games to doing community relations work with children. The local media knows that when they see the Sorento emblazoned with the TCSO logo, Smith is nearby.
"Since we purchased our Sorento, it has been at any major scene that we've been involved with," he said.
Some of those higher profile scenes this year included the shooting of a Troup County deputy (he is ok) and a standoff at a local motel involving a couple from out of state.
In his role as public information officer, Smith spends a lot of his time in the community and particularly likes the work he gets to do with children and schools. His Sorento is always a big hit with those students.
"At our summer camp, the kids loved seeing the vehicle and checking it out," he said. "Kia is visible in the community and giving back and that's what we try to do. It is a good partnership."
He noted that the response from his co-workers has been positive and they all mention how well the Sorento "handles."
"This would be a great vehicle for our administration team and investigators," Smith said.
Overall, Smith is impressed with the quality, the looks and the gas mileage and is looking forward to driving the Sorento for many years to come.
"We really appreciate the partnership that led to us getting the vehicle," he said. "It helps anytime that we can add another vehicle to our fleet and this is our first one built here in Troup County. It is exciting that we were able to go right down the road and pick it up. This has been a great experience and we are proud to make it happen."
The Kia Sorento was the first product for KMMG and initially rolled off the assembly line on Nov. 16, 2009. This past May, KMMG assembled the one millionth Sorento at its West Point, Ga. plant. The 2017 Sorento ranked first this year in J.D. Power's Initial Quality Study (IQS) as the top midsize SUV and was named a "Best Car for the Money" by U.S. News and World Report