Posted on August 23rd, 2019 by Patrick Sands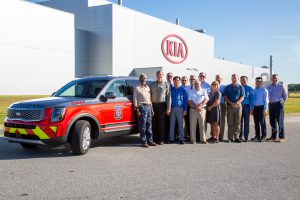 (West Point, GA.) August 23, 2019 – Showing great support for the 2,700 team members at Kia Motors Manufacturing Georgia, Inc. (KMMG), the Troup County Fire Department (TCFD) has added an all-new 2020 Kia Telluride to its fleet of vehicles. This Telluride has been custom-decorated to match the new design of the department's fire trucks.
"The Telluride is an unbelievable vehicle that we are excited to have in our fire department's fleet," said Troup County Manager Eric Mosley. "When we first saw it featured in the Super Bowl ad this year, we knew it would be a great fit for us. Knowing that it was built by the men and women right here in Troup County makes it an absolutely perfect match."
TCFD Chief John Ekaitis, who joined the department earlier this year, will be driving the Telluride and is excited to have the new vehicle out in the community.
"The vehicle has been a big hit in our department and we look forward to many years of navigating the county in our Telluride," Ekaitis said. "We know that the Telluride has been selling incredibly well and that we are lucky to be able to purchase one locally."
Jangsoo (Jason) Shin, KMMG's president and CEO, says that the entire KMMG team is appreciative and honored that the TCFD has purchased a Telluride.
"Our public safety employees do so much to keep us all safe every day," said Shin. "We can't thank them enough for all of their efforts. KMMG is privileged to be located in a community that is so supportive of our company."
Caption: The Troup County Fire Department's newly decorated Kia Telluride was on display at Kia Motors Manufacturing Georgia (KMMG) on Friday. Shown with the Telluride are members of the Troup County staff, Troup County Commissioners, members of the Troup County Fire Department and KMMG representatives.
About KMMG:
Kia Motors Manufacturing Georgia, Inc. (KMMG) is the first manufacturing site in North America for Kia Motors Corporation based in Seoul, Korea. With an annual capacity of 340,000 units, KMMG is located on 2,200 acres in West Point, Georgia, and began mass production on Nov. 16, 2009. KMMG is home to the Telluride SUV, Sorento SUV, and the Optima mid-size sedan.