Posted on December 22nd, 2016 by Patrick Sands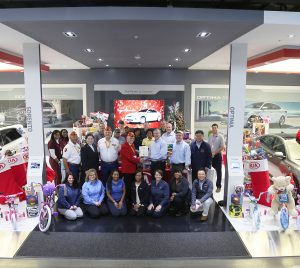 (West Point, GA.) December 21, 2016 – Team Members at Kia Motors Manufacturing Georgia recently donated more than 1,500 toys to the U.S. Marine Corps League of LaGrange for its Toys for Tots drive. The toys were donated to the U.S. Salvation Army and Empty Stocking Fund for deserving children throughout the county.
Photo cutline – Bernard Bledsoe, coordinator of the local Toys for Tots program, presents Stuart C. Countess, KMMG's chief administrative officer, a plaque of appreciation for KMMG's donation. Additional Marines and representatives from the U.S. Salvation Army, along with KMMG's COO Derek Kim, Chris Miller, director of maintenance, and team members from production shops and administrative offices are also pictured.
About KMMG
Kia Motors Manufacturing Georgia, Inc. (KMMG) is the first manufacturing site in North America for Kia Motors Corporation based in Seoul, Korea. With an annual capacity of 360,000 units, KMMG is located on 2,200 acres in West Point, Georgia, and began mass production on Nov. 16, 2009. KMMG is home to the Sorento CUV and the Optima mid-size sedan, two of the brand's top selling models in the U.S.