Posted on March 13th, 2014 by Patrick Sands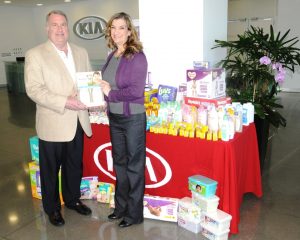 (West Point, GA.) March 13, 2014 – Team members at Kia Motors Manufacturing Georgia, Inc. (KMMG) in West Point recently donated a wide variety of baby care supplies to Harmony House Domestic Violence Shelter in LaGrange.  Harmony House is a State of Georgia certified shelter that serves victims of domestic violence 24 hours a day, seven days a week by providing emergency shelter, crisis intervention, and advocacy for victims of domestic violence. The items donated by KMMG team members will be used to assist parents who have infants and toddlers when seeking shelter from domestic abuse.
Randy Jackson, senior vice president of human resources and administration for KMMG, said team members were delighted to provide the baby care goods to Harmony House.
"People are the heart and soul of KMMG, and our team members have repeatedly shown their interest and willingness to assist those in need and support non-profit organizations in the region we call home," Jackson said. "The Harmony House is doing good work in our community, and team members rose to the occasion when we recognized a need."
KMMG team members regularly collect items for distribution to community partners, this marks the first time the plant's team members have donated to Harmony House.
About KMMG
Kia Motors Manufacturing Georgia, Inc. (KMMG) is the first manufacturing site in North America for Kia Motors Corporation based in Seoul, Korea. With an annual capacity of 360,000 units, KMMG is located on 2,200 acres in West Point, Georgia, and began mass production on Nov. 16, 2009. KMMG is home to the Sorento CUV and the Optima mid-size sedan, two of the brand's top selling models in the U.S.