Posted on July 7th, 2014 by Patrick Sands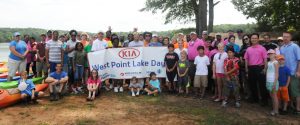 (West Point, GA.) July 7, 2014–West Point Lake at Pyne Road Park in LaGrange is cleaner this summer, thanks to the efforts of Kia Motors Manufacturing Georgia (KMMG) team members and its suppliers – Powertech America, Sewon America and Johnson Controls Inc.
On June 28, sixty-eight team members, including KMMG managers and vice presidents, were joined by friends, family and suppliers to pick up enough trash to fill 52 trash bags during West Point Lake Day.
"Keeping West Point Lake clean is a great way to help the environment in the community we call home, and this team-building activity provides a positive example for all team members that working together can have a powerful impact," said Stuart Countess, vice president of quality for KMMG.
KMMG team members also enjoyed the activities.
"My daughter and I really enjoyed spending the day cleaning the lake with our supplier partners," said Tracy Rome, benefits at KMMG. "It's such a beautiful area. We also enjoyed the lunch afterward and the kayaking activities. It was a great way to spend a Saturday afternoon."
About KMMG
Kia Motors Manufacturing Georgia, Inc. (KMMG) is the first manufacturing site in North America for Kia Motors Corporation based in Seoul, Korea. With an annual capacity of 360,000 units, KMMG is located on 2,200 acres in West Point, Georgia, and began mass production on Nov. 16, 2009. KMMG is home to the Sorento CUV and the Optima mid-size sedan, two of the brand's top selling models in the U.S.       
###