Posted on August 7th, 2018 by Patrick Sands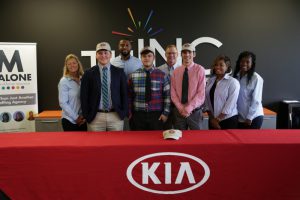 (LaGrange, GA.) August 7, 2018 – Kia Motors Manufacturing Georgia (KMMG) is pleased to announce that it has chosen three students from THINC College & Career Academy's Expedition program, a work-based learning initiative.
More than 30 students applied for the program, and 15 were chosen to serve as student interns, including the three signed on by KMMG on Aug. 3.
The students will begin working with mentors at KMMG Aug. 13 in a variety of departments at the plant. Some of the goals of the program are to teach the students life and learning skills, work ethic and enhance their attitude and soft skills.
Latesa Bailey, head of KMMG's Human Resources Department, said the program gives the students a career track and develops other essential skills.
"Our Kia culture is built on a solid foundation that people are the heart and soul of our company," she said. "We are passionate about work-based learning and excited about developing our future workforce. We are thrilled to host our three new expedition students."
As with KMMG's traditional co-op programs, students will be employed by Malone Staffing. They will work a few hours a day – according to their school schedules, and receive high school credit through on-the-job training.
This will be KMMG's second time recruiting students from THINC to work at the plant. The first year, a senior from THINC was hired to work in KMMG's paint maintenance shop.
"THINC students bring the mindset we are looking for in a future workforce," said Stuart C. Countess, chief administrative officer for KMMG.
Kathy Carlisle, chief executive officer for THINC, said the Expedition program allows students to gain irreplaceable knowledge.
"We are pleased that so many of our students will be going into the workforce for direct hands-on experience in such wonderful companies as Kia," Carlisle said.
Caption: Pictured from the left are: Shannon Garner, manager in human resources for KMMG; student intern Riley Morgan, Troup High school; Marco Brown, specialist in KMMG's human resources department; student intern Connor Ferrante, Callaway High School; Steven Nicholas, specialist in KMMG's human resources; student intern Jaime Gonzalez, Troup High School; Latesa Bailey, head of human resources for KMMG; and Rosalind Williams, specialist in human resources for KMMG.
About KMMG
Kia Motors Manufacturing Georgia, Inc. (KMMG) is the first manufacturing site in North America for Kia Motors Corporation based in Seoul, Korea. With an annual capacity of 360,000 units, KMMG is located on 2,200 acres in West Point, Georgia, and began mass production on Nov. 16, 2009. KMMG is home to the Sorento SUV and the Optima mid-size sedan, two of the brand's top selling models in the U.S.
About THINC
Located in LaGrange, Georgia, THINC College & Career Academy is a charter program designed for high school-aged students within Troup County. Combining critical thinking and business, THINC Academy creates an authentic workplace curriculum that extends learning beyond the traditional classroom. THINC students are highly desirable to businesses and colleges not only because they are equipped with technical and career-specific skills, but because they understand the soft skills of business – a firm handshake, a strong work ethic and critical thinking skills. Led by academic and corporate professionals and funded by local corporations, THINC officially opened its doors for learning in August 2015. For more information, visit www.thincacademy.net