Posted on July 11th, 2013 by Patrick Sands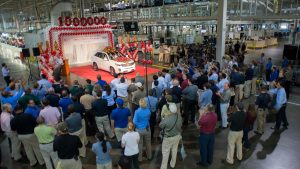 (West Point, GA.) July 11, 2013 – Today, Kia Motors Manufacturing Georgia, Inc. (KMMG) celebrated as the one millionth vehicle – a snow white pearl 2014 Sorento SXL – rolled off the assembly line at the West Point, Ga. automobile manufacturing facility.
Representing an initial investment of $1 billion, mass production of the Sorento CUV began at KMMG on November 16, 2009.  Together with on-site and local suppliers, the plant is responsible for the creation of more than 11,000 jobs in West Point and the surrounding region.  A $100 million expansion completed in early-2012 increased annual capacity to 360,000 vehicles and the Optima mid-size sedan, which was added to the line in 2011, has been Kia's best-selling vehicle in the U.S. for 19 consecutive months.
"Building one million vehicles in less than four years is a tremendous achievement and one that each one of our more than 3,000 team members can take great pride in," said Byung Mo Ahn, Group President and CEO for Kia Motors America and Kia Motors Manufacturing Georgia.  "People are the heart and soul of this company, and our team members' commitment to world class quality is one of the major driving forces behind Kia's unprecedented sales and market share growth in the U.S. over the last few years."
The one millionth Sorento will be allocated to one of Kia Motors America's more than 765 dealerships nationwide.
About KMMG
Kia Motors Manufacturing Georgia, Inc. (KMMG) is the first manufacturing site in North America for Kia Motors Corporation based in Seoul, Korea. With an annual capacity of 360,000 units, KMMG is located on 2,200 acres in West Point, Georgia, and began mass production on Nov. 16, 2009. KMMG is home to the Sorento CUV and the Optima mid-size sedan, two of the brand's top selling models in the U.S.