Posted on June 26th, 2013 by Patrick Sands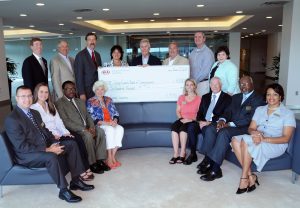 (West Point, GA.) June 25, 2013 – Today, Kia Motors Manufacturing Georgia, Inc. (KMMG) provided $600,000 in funding to the Troup County Board of Commissioners to support the county's new career academy.
"The career academy is a tremendous project that will benefit this area for years to come," said Randy Jackson, KMMG's vice president of human resources and administration. "Workforce development will be a key to this region's success and we view the Troup County Board of Commissioners as a critical partner for KMMG."
The $600,000 is part of KMMG's $3 million commitment to the board of commissioners over the next five years. In addition to this investment, KMMG has pledged $900,000 to STEM (science, technology, engineering and mathematics) education in Troup County Schools through the SAE Foundation over the next three years, the first $300,000 of which was presented in December.
"We are forecasting well beyond 2013 and when you look toward the end of the decade, this area's workforce is currently in sixth grade," said Jackson. "We see these investments as a long term commitment to this region's future workforce."
Ricky Wolfe, the chairman of the Troup County Commission, thanked KMMG for the support and for its commitment to Troup County.
"We are fortunate to have the Kia plant as a dedicated corporate partner here in Troup County," said Wolfe. "We look forward to continuing this successful partnership for many years to come and expect that the career academy will have a positive impact on many of the lives and families in this area."
About KMMG
Kia Motors Manufacturing Georgia, Inc. (KMMG) is the first manufacturing site in North America for Kia Motors Corporation based in Seoul, Korea. With an annual capacity of 360,000 units, KMMG is located on 2,200 acres in West Point, Georgia, and began mass production on Nov. 16, 2009. KMMG is home to the Sorento CUV and the Optima mid-size sedan, two of the brand's top selling models in the U.S.