Posted on January 16th, 2014 by Patrick Sands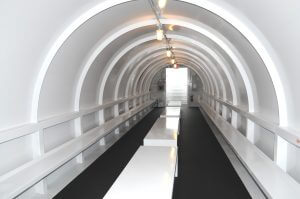 (West Point, GA.)  Jan. 15, 2014 – Kia Motors Manufacturing Georgia, Inc. (KMMG) has taken steps to further ensure its team members' safety by building underground storm shelters that can withstand an F5 tornado.
"While we hope we never have to use them, the weather is sometimes unpredictable and can change instantly," said Randy Jackson, senior vice president of human resources and administration for KMMG. "With that in mind, and storms that have hit nearby, we want to ensure that team members will be safe onsite in the event of disastrous weather."
KMMG has installed 10 underground storm shelters, placed near each of its buildings, that can hold up to 100 team members per unit. The state-of-the-art units include chemical restrooms and generators that provide lights and forced air circulation.
Kerry Franks, assistant manager of the Facilities Department at KMMG, said based on the number of team members and suppliers onsite per shift at KMMG, the underground shelters and interior shelters inside each building will provide adequate space for everyone in the event of a storm.
"More than anything, we value people as the heart and soul of our company, and we put a priority on safety," Jackson said. "We will continue installing additional underground storm shelters in the coming months."
About KMMG
Kia Motors Manufacturing Georgia, Inc. (KMMG) is the first manufacturing site in North America for Kia Motors Corporation based in Seoul, Korea. With an annual capacity of 360,000 units, KMMG is located on 2,200 acres in West Point, Georgia, and began mass production on Nov. 16, 2009. KMMG is home to the Sorento CUV and the Optima mid-size sedan, two of the brand's top selling models in the U.S.