Posted on August 2nd, 2019 by Patrick Sands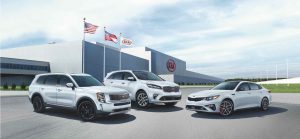 (West Point, GA.) August 2, 2019– The team at Kia Motors Manufacturing Georgia (KMMG) has achieved a lot since beginning production on Nov. 16, 2009. From the launches of the Sorento, Optima and Telluride to the 1 millionth and 2 millionth milestone vehicles, it has been a great 10 years. To thank the local community and to commemorate the 10th anniversary for KMMG, the plant will now be taking reservations for its new public tour program.
"We are pleased to be able to announce the launch of our public tour program today," said Stuart Countess, KMMG's chief operating officer. "This will be a great opportunity for the local community to see the world-class quality that the KMMG team puts into each one of our products."
Tour times will be 9 a.m. and 1:30 p.m. on Tuesdays and Thursdays. Requests can be made by calling the tour hotline and leaving a voicemail at 706-902-7771 or by sending an e-mail to KMMGPR@kmmgusa.com. You can also reach out by phone or e-mail for any questions.
Reservations are not final until confirmed by a member of the KMMG Team Relations team. The reservation window closes 24 hours prior to each tour. Space is limited and will be available on a first come, first serve basis.
For a full list of requirements, please visit the tours link at www.kmmgusa.com.
# # #
About KMMG: Kia Motors Manufacturing Georgia, Inc. (KMMG) is the first manufacturing site in North America for Kia Motors Corporation based in Seoul, Korea. With an annual capacity of 340,000 units, KMMG is located on 2,200 acres in West Point, Georgia, and began mass production on Nov. 16, 2009. KMMG is home to the Telluride SUV, Sorento SUV, and the Optima mid-size sedan.