Posted on February 12th, 2013 by Patrick Sands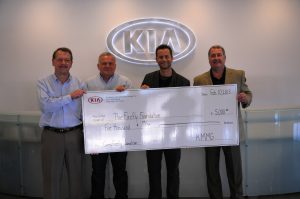 (West Point, GA.) Feb. 11, 2013 – Kia Motors Manufacturing Georgia, Inc. (KMMG) presented a donation to Camp Firefly co-founder Kirk Cameron during a ceremony on Sunday at the manufacturing plant. Camp Firefly is a weeklong retreat that provides outdoor activities, golfing and a spa day for terminally and seriously ill children and their families held annually at Callaway Gardens in Pine Mountain, Ga. since 1989.
"Providing support to organizations close to home like Camp Firefly is important to KMMG and benefits so many children and their families," said Randy Jackson, KMMG's vice president of human resources and administration. "We thank Kirk and Chelsea Cameron for the opportunity to participate in this year's retreat."
"On behalf of Camp Firefly, I want to thank KMMG and its team members for recognizing how important it is for families to get away from the pressures of hospitals, medical treatments and other worries to have a chance to spend time with each other, and other families who can relate to their struggles and challenges," said Cameron.
About KMMG
Kia Motors Manufacturing Georgia, Inc. (KMMG) is the first manufacturing site in North America for Kia Motors Corporation based in Seoul, Korea. With an annual capacity of 360,000 units, KMMG is located on 2,200 acres in West Point, Georgia, and began mass production on Nov. 16, 2009. KMMG is home to the Sorento CUV and the Optima mid-size sedan, two of the brand's top selling models in the U.S.
###