Posted on September 25th, 2014 by Patrick Sands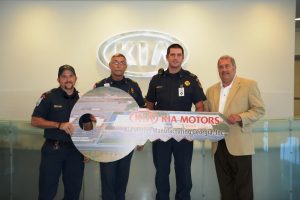 (West Point, GA.) Sept. 25, 2014 – Kia Motors Manufacturing Georgia, Inc. (KMMG) has donated 25 vehicles to schools and public safety departments across the region for educational and training purposes this year.
"We are pleased to be able to make these donations because we know that by exposing students and public safety personnel to the most current automotive technology, we are contributing to the success of this plant and the region as a whole," said Randy Jackson, KMMG's senior vice president of human resources and administration. "KMMG is a learning organization, very much focused on continuous improvement, and this is a way we can spread that philosophy throughout this region."
In all, since 2010, KMMG has donated 103 vehicles for educational and training purposes. These donation vehicles are all pre-production models, meaning they are not permitted to be driven on public roadways.
Schools receiving vehicles in 2014 include: West Georgia Technical College, Clark-Atlanta University, Douglas County College and Career Institute, East Hall High School (Gainesville, Ga.), Moultrie Technical College and Columbus Technical College.
Public safety departments receiving vehicles in 2014 include: the West Point Fire Department, the LaGrange Fire Department, the Manchester Fire Department, the Antioch Fire Department, the Heard County Fire Department and Valley EMS/East Alabama Fire Department.
About KMMG
Kia Motors Manufacturing Georgia, Inc. (KMMG) is the first manufacturing site in North America for Kia Motors Corporation based in Seoul, Korea. With an annual capacity of 360,000 units, KMMG is located on 2,200 acres in West Point, Georgia, and began mass production on Nov. 16, 2009. KMMG is home to the Sorento CUV and the Optima mid-size sedan, two of the brand's top selling models in the U.S.