Posted on February 5th, 2019 by Patrick Sands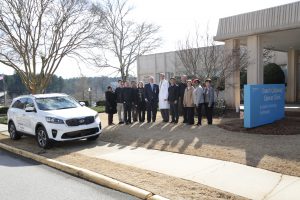 (LaGrange, GA.) February 5, 2019 – Kia Motors Manufacturing Georgia (KMMG) recently donated $75,000 to the West Georgia Health Foundation to benefit the Enoch Callaway Cancer clinic at WellStar West Georgia Medical Center in LaGrange to assist cancer patients with transportation to treatments.
The donation includes the purchase of a 2019 Sorento, maintenance, insurance and salary for a driver.
"We are beyond thrilled about the donation from Kia," said Susan Ferguson, director of development for West Georgia Health Foundation. "We have utilized a volunteer program for years, and it will be such a great help to have our own vehicle and someone on staff to pick up patients and transport them back and forth to treatments."
Stuart Countess, chief administrative officer for KMMG, said Kia is honored to donate to such a worthy partnership with WellStar.
"It's sad to think that some patients miss cancer treatments because they can't find transportation to an appointment," Countess said. "We hope our donation will help bridge this gap for patients."
Ferguson said the Sorento will be well used.
"We see about 500 cancer patients per year who have multiple appointments," Ferguson said, "and the need for transportation continues to increase."
# # #
About KMMG: Kia Motors Manufacturing Georgia, Inc. (KMMG) is the first manufacturing site in North America for Kia Motors Corporation based in Seoul, Korea. With an annual capacity of 340,000 units, KMMG is located on 2,200 acres in West Point, Georgia, and began mass production on Nov. 16, 2009. KMMG is home to the Sorento SUV, the Optima mid-size sedan, and soon Kia's "largest ever" SUV – the Telluride.