Posted on March 4th, 2014 by Patrick Sands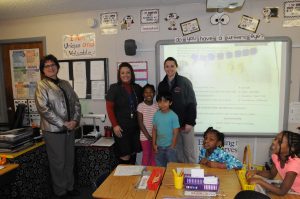 More than $40,000 of the total funding has gone to schools in Troup County
(West Point, GA.) March 4, 2014 – Through a partnership with DonorsChoose.org, an innovative online charity that makes it easy to help students in public schools across the United States, Kia Motors Manufacturing Georgia, Inc. (KMMG) and its team members have recently given more than $28,000 to classroom projects in local schools, impacting more than 7,900 students in Troup County and surrounding areas. Combined with last year's funding, KMMG's contributions through DonorsChoose.org now exceed $100,000.
KMMG representatives recently visited the classrooms of teachers Jean Gravette and Barbie Whitley at Berta Weathersbee Elementary School and Kimberly Edmondson at LaGrange High School. Each of these classrooms received document cameras, a tool being used to further enhance the classroom experience and engage students in lessons.
"We are always happy to support education in our community and DonorsChoose.org has been a tremendous partner in helping us provide school supplies where they are needed most," said Randy Jackson, KMMG's senior vice president of human resources and administration. "The work being done in today's classrooms is laying the foundation for the workforce and the leaders of tomorrow."
"We thank Kia and its team members for all of the support shown to the Troup County Schools System," said Superintendent Dr. Cole Pugh. "Our teachers and students will certainly enjoy the benefits of these additional resources."
About KMMG
Kia Motors Manufacturing Georgia, Inc. (KMMG) is the first manufacturing site in North America for Kia Motors Corporation based in Seoul, Korea. With an annual capacity of 360,000 units, KMMG is located on 2,200 acres in West Point, Georgia, and began mass production on Nov. 16, 2009. KMMG is home to the Sorento CUV and the Optima mid-size sedan, two of the brand's top selling models in the U.S.