Posted on January 22nd, 2014 by Patrick Sands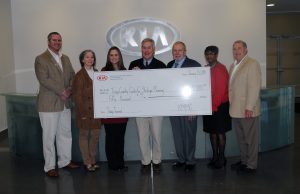 (West Point, GA.)  Jan. 22, 2014 – Recently, Kia Motors Manufacturing Georgia, Inc. (KMMG) contributed $50,000 to the Troup Trained workforce development program, an advanced training program made possible through a collaboration between the Troup County Center for Strategic Planning, West Georgia Technical College and the Workforce Development Division of the Three Rivers Regional Commission that aims to help unemployed Troup County citizens get back to work.
Randy Jackson, KMMG's senior vice president of human resources and administration, thanked the groups involved with creating this program and noted that programs like these benefit both the individual participants and the area's employers.
"We are impressed by the curriculum and impact the Troup Trained program is having on the citizens in our local community," said Jackson. "KMMG is a learning organization built on continuous improvement and it is great to see examples of this philosophy at work in the area we call home."
Troup Trained is a no-cost, seven-week program for both participants and employers that focuses on soft skill development, training in business basics and an orientation to industries unique to Troup County.
Ricky Wolfe, who serves as chairman of the Troup County Board of Commissioners and the Troup County Center for Strategic Planning, thanked KMMG for the contribution.
"We are so pleased that KMMG is willing to make such a generous contribution that helps Troup Trained to grow and positively impact more individuals and families in this area," said Wolfe. "Kia is truly a leader in helping Troup County residents get back to work."
About KMMG
Kia Motors Manufacturing Georgia, Inc. (KMMG) is the first manufacturing site in North America for Kia Motors Corporation based in Seoul, Korea. With an annual capacity of 360,000 units, KMMG is located on 2,200 acres in West Point, Georgia, and began mass production on Nov. 16, 2009. KMMG is home to the Sorento CUV and the Optima mid-size sedan, two of the brand's top selling models in the U.S.
###