Posted on October 24th, 2016 by Patrick Sands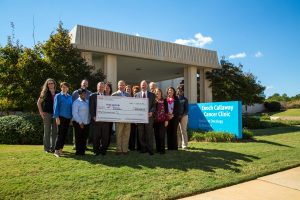 (LaGrange, GA.) October 24, 2016 – On Friday, Kia Motors Manufacturing Georgia presented a $50,000 contribution to the Enoch Callaway Cancer Center at WellStar West Georgia Medical Center (WGMC).
"Our KMMG team is excited to be able make this donation to such a tremendous organization that does so much good in our community," said KMMG Chief Administrative Officer (CAO) Stuart C. Countess. "Being a good corporate citizen is a big part of the Kia Way and it is great to see that our success as a company continues to benefit our region."
Pictured: Front Row, from left: Myra Settle, Corinne Hodges and Faith Jones of KMMG; Jerry Fulks, president of WellStar WGMC; KMMG CAO Stuart C. Countess; Wesley Smith, chairman of the West Georgia Health Foundation (WGHF) Board of Directors; Susan Ferguson, WGHF development director; and Stephanie Rabon and Melissa Bledsoe of KMMG. Back row, from left: Greg Hinze, Michele Caulder, Kelsey McElvey and Iris Ross of KMMG and Rick Mallory, WGHF Board corporate gifts chairman.
About KMMG
Kia Motors Manufacturing Georgia, Inc. (KMMG) is the first manufacturing site in North America for Kia Motors Corporation based in Seoul, Korea. With an annual capacity of 360,000 units, KMMG is located on 2,200 acres in West Point, Georgia, and began mass production on Nov. 16, 2009. KMMG is home to the Sorento CUV and the Optima mid-size sedan, two of the brand's top selling models in the U.S.