Posted on November 20th, 2013 by Patrick Sands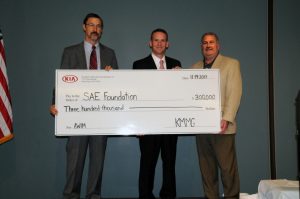 (West Point, GA.) Nov. 19, 2013 – On Tuesday at the Kia Georgia Training Center, Kia Motors Manufacturing Georgia, Inc. (KMMG) presented the second of three $300,000 contributions (totaling $900,000) to the SAE Foundation that will be used to continue impacting science, technology, engineering and mathematics (STEM) education in Troup County through 2014.
The celebration was attended by local city council members, county commissioners, school board members and school administrators and coincided with elementary and middle school students from Troup County showcasing what they have learned during the past year through the implementation of SAE's K-12 STEM Education Program, A World in Motion© (AWIM).
AWIM is an award-winning program that brings science, technology, engineering and mathematics to life in the classroom. These programs help students to build a foundation for careers as engineers, scientists or technicians, to meet future workforce needs of companies like Kia Motors.
Randy Jackson, KMMG's vice president of human resources and administration spoke about KMMG's commitment to this area's students and the important role teachers play in their lives.
"KMMG is a learning organization," said Jackson. "We know that by working together as one system, one team, we will be able to reach our goal of continuous improvement each day. This is an important part of our Kia Way philosophy and we are trying to share this philosophy with our community."
KMMG's commitment to STEM and the community is strengthened by the partnership with SAE Foundation and the Troup County School System.
Chris Ciuca, director of pre-professional programs at SAE International, thanked KMMG for continuing this commitment to STEM education and for realizing the importance of focusing on these subject areas.
"We want to expose students to many different aspects of the STEM fields," he said. "We have found that when you reach students in lower grades, you can have an even greater impact long-term towards engaging students in STEM careers."
During the event, elementary students demonstrated their "AWIM Engineering Inspired by Nature" program while eighth grade students demonstrated their "AWIM Jet Joy" projects.
"We are so excited that Kia continues to recognize the value of these important subject areas," said Dr. Cole Pugh, superintendent of Troup County Schools. "We thank Kia for recognizing the value of education and for being such a great partner to the Troup County School System."
About KMMG
Kia Motors Manufacturing Georgia, Inc. (KMMG) is the first manufacturing site in North America for Kia Motors Corporation based in Seoul, Korea. With an annual capacity of 360,000 units, KMMG is located on 2,200 acres in West Point, Georgia, and began mass production on Nov. 16, 2009. KMMG is home to the Sorento CUV and the Optima mid-size sedan, two of the brand's top selling models in the U.S.
About SAE Foundation
The SAE Foundation is the charitable arm of SAE International that strives to encourage and increase student participation and achievement in science, technology, engineering and math through educational programs, including A World In Motion® and the Collegiate Design Series™. SAE International is a global association of more than 133,000 engineers and related technical experts in the aerospace, automotive and commercial-vehicle industries. SAE International's core competencies are life-long learning and voluntary consensus standards development.
About AWIM
SAE International's A World In Motion® (AWIM) is a teacher-administered, industry volunteer-assisted program that brings science, technology, engineering and math (STEM) education to life in the classroom for students in kindergarten through grade 12. Benchmarked to the national standards, AWIM incorporates the laws of physics, motion, flight and electronics into age-appropriate hands on activities that reinforce classroom STEM curriculum.
###