Posted on September 29th, 2015 by Patrick Sands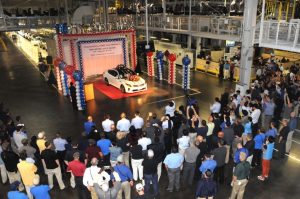 (West Point, GA.) Sept. 29, 2015 – On Monday, team members of Kia Motors Manufacturing Georgia, Inc. (KMMG) celebrated the start of production of the all-new 2016 Kia Optima with a ceremony inside the plant's General Assembly shop. The 2016 Kia Optima is another in a growing line of successful launches for the plant which began production of its first vehicle, the Sorento CUV, on Nov. 16, 2009. The first U.S.-assembled Optima rolled off KMMG's assembly line on Sept. 2, 2011. These vehicles precipitated KMMG's growth to more than 3,000 team members and have resulted in the creation of more than 15,000 jobs in West Point and the surrounding region.
"I am so proud of all that our team members have accomplished and the hard work they have put into production of the all-new 2016 Kia Optima," said Hyun-Jong Shin, KMMG's president and CEO. "The KMMG team continues to demonstrate a dedication to quality that is second to none with a commitment to producing world class products."
With almost 1.8 million vehicles produced to date, KMMG continues to build on its prior successes to improve efficiency in all of its operations. This includes an ongoing multi-million dollar expansion of the plant's vehicle processing center, KMMG's hub for shipping vehicles to dealerships around North America by railroad and by truck.
About KMMG
Kia Motors Manufacturing Georgia, Inc. (KMMG) is the first manufacturing site in North America for Kia Motors Corporation based in Seoul, Korea. With an annual capacity of 360,000 units, KMMG is located on 2,200 acres in West Point, Georgia, and began mass production on Nov. 16, 2009. KMMG is home to the Sorento CUV and the Optima mid-size sedan, two of the brand's top selling models in the U.S.   
Caption 1 (Optima): Shown, the first saleable 2016 Kia Optima rolls off KMMG's assembly line.
Caption 2 (VPC): Work continues at the vehicle processing center expansion at KMMG.