Posted on February 18th, 2019 by Patrick Sands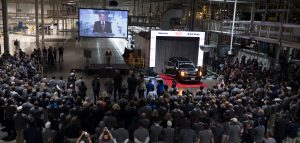 (West Point, GA.) February 15, 2019 – On Friday, the team of Kia Motors Manufacturing Georgia, Inc. (KMMG) officially began production of the all-new 2020 Kia Telluride, Kia's largest and most rugged SUV to date. The celebratory vehicle was dark moss in color and came equipped with the SX Prestige package. It was introduced by Kia Motors North America (KMNA) CEO Sean Yoon and driven off of the line by KMMG's President and CEO Jason Shin and Georgia Governor Brian Kemp. Friday's event also included a special appearance by Korbin Pope, the local star of Kia's Super Bowl commercial.
"We are incredibly proud of the Kia Motors Manufacturing Georgia Team for launching another excellent product right here in the Peach State," said Kemp. "As Georgia's Governor, it was an honor to attend today's ceremony, celebrate KMMG's workforce, and commend them for their commitment to innovation, quality, and growth. Today's launch of the Telluride, a product that will be made exclusively here in our state, is a remarkable milestone for Georgians."
The Telluride is joining the award-winning Sorento SUV and Optima mid-size sedan on KMMG's production line.
"The addition of the Kia Telluride to KMMG is further evidence of our commitment to the U.S. and local economy," said Yoon. "This vehicle was imagined and designed specifically for the United States in our Kia Design Center in Irvine, California and is now being assembled here in West Point. There is no doubt that the world-class quality and attention to detail of the Telluride will be second to none."
About KMMG: Kia Motors Manufacturing Georgia, Inc. (KMMG) is the first manufacturing site in North America for Kia Motors Corporation based in Seoul, Korea. With an annual capacity of 340,000 units, KMMG is located on 2,200 acres in West Point, Georgia, and began mass production on Nov. 16, 2009. KMMG is home to the Telluride SUV, Sorento SUV, the Optima mid-size sedan.
Photo: Kia 1
The 2020 Kia Telluride makes its debut at today's Start of Production Ceremony at Kia Motors Manufacturing Georgia, Inc. in West Point, Georgia.
Photo: Kia 2
From left: Kia Motors Manufacturing Georgia (KMMG) Chief Administrative Officer Stuart Countess, KMMG President and CEO Jason Shin, Consul General of the Republic of Korea Young-jun Kim, Georgia Governor Brian Kemp, Kia Motors North America President and CEO Sean Yoon, Georgia's Commissioner of Economic Development Pat Wilson, Technical College System of Georgia Commissioner Matt Arthur and Georgia's Department of Community Affairs Commissioner Chris Nunn.