Posted on November 18th, 2019 by Patrick Sands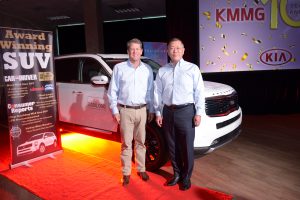 KMMG, Kia Motors' first North American manufacturing plant, has created more than 15,000 jobs and produced more than three million vehicles
Governor Brian Kemp and Hyundai Motor Group Executive Vice Chairman Euisun Chung attend ceremony to mark anniversary
Kia continues efforts to provide world's best smart mobility services alongside expanding range of efficient, high-quality vehicles
(West Point, GA.) November 18, 2019 – Kia Motors Manufacturing Georgia (KMMG) today celebrated its 10th anniversary of vehicle production in West Point, Georgia. The facility was the company's first manufacturing hub to open in North America. It has so far helped create more than 15,000 local jobs and produced more than three million vehicles.
KMMG became the Korean firm's third overseas manufacturing plant when it held its ground-breaking ceremony in October 2006, and underwent over three years of construction before producing its first vehicle, a Sorento, in November 2009. The 2,200-acre site has played a key role in strengthening Kia's presence in the U.S. market ever since, and currently has a production capacity of 340,000 vehicles per year.
Most of the output at KMMG is for the brand's popular SUV models, the Telluride and Sorento, as well as the Optima mid-size sedan. Kia Motors plans to increase KMMG's annual production target for the Telluride to 80,000 units from the current 60,000.
Euisun Chung, Executive Vice Chairman of Hyundai Motor Group, who was president of Kia Motors Corporation when it made the decision to locate in Georgia, congratulated KMMG employees and local partners at a special event to mark the anniversary. He expressed appreciation of the support and cooperation of Georgia's Department of Economic Development, the Department of Community Affairs, and the Georgia Ports Authority.
EVC Chung also emphasized the impact of Georgia's Technical College System and the role Georgia Quick Start played in the training and development of KMMG's workforce during its first decade, stressing Quick Start's innovative approach to training over 3,000 employees.
"The KMMG team members are known around the world for their output and dedication," said EVC Chung. "The support we have received since the very beginning – from state and local governments, civic organizations and various partners – has been critical to the success of Kia's first American plant. Without a doubt, Georgia and the larger U.S. market will be the crown jewel of our global operations."
Commenting on the current rapid rate of change in the global automotive industry, EVC Chung said Hyundai Motor Group and Kia Motors would become paradigm-shifters and trailblazers, and emphasized that KMMG will continue to play an important part of the company's future strategy. "We will offer the world's best smart mobility services, expanding our horizons beyond vehicle production," he added. "In the future we will manufacture not only cars but also personal air vehicles and robots, as well as offer all related services."
Georgia Governor Brian P. Kemp, who attended the celebratory event together with EVC Chung, lauded a successful first decade of production and a promising future for Kia in West Point.
"It was an honor to celebrate today's milestone and the many accomplishments of the Kia team during its first 10 years of production here in Georgia," said Governor Kemp. "We are so proud that Kia chose to make our state its home, and I commend Executive Vice Chairman Chung and the entire KMMG team for driving growth in Georgia while continuing to be industry leaders in safety and quality."
In line with Hyundai Motor Group's strategy to become a smart mobility solutions provider, Kia Motors is preparing itself for the rapidly changing automotive landscape. The company recently announced, with affiliate Hyundai Motor Company, that it will establish an autonomous driving joint venture with Aptiv in the U.S. to lead the future of autonomous driving.
KMMG milestones
March 2006: Contract signing
October 2006: Ground-breaking ceremony
November 2009: Production of Sorento begins
February 2010: Grand opening of KMMG
September 2011: Production of Optima begins
January 2019: Production of Telluride begins
September 2019: Produces its three-millionth vehicle
# # #
About KMMG: Kia Motors Manufacturing Georgia, Inc. (KMMG) is the first manufacturing site in North America for Kia Motors Corporation based in Seoul, Korea. With an annual capacity of 340,000 units, KMMG is located on 2,200 acres in West Point, Georgia, and began mass production on Nov. 16, 2009. KMMG is home to the Telluride SUV, Sorento SUV and Optima mid-size sedan.
Caption: Shown, Hyundai Motor Group Executive Vice Chairman Euisun Chung and Georgia Governor Brian P. Kemp celebrate Kia Motors Manufacturing Georgia's 10th Anniversary on Monday in West Point, Georgia.