Posted on November 21st, 2018 by Patrick Sands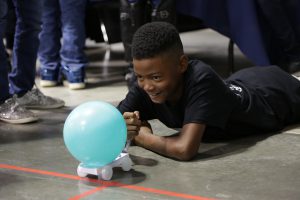 WARRENDALE, Pa. (Nov. 20, 2018) – Creating the most efficient and smooth-running balloon-powered vehicle was the task for 500 fifth grade students on Thursday, Nov. 15 in Atlanta during the SAE International A World In Motion (AWIM) JetToy Competition, hosted by Kia Motors Manufacturing Georgia, Inc. (KMMG).
Working in design teams, students culminated their classroom experience by building and testing model JetToy cars that they have analyzed for weeks. Throughout the competition, the students engaged in a variety of distance, accuracy and timed events applying science, technology, engineering and math (STEM) education.
"It is so exciting and encouraging to watch tomorrow's engineers at work. These students are powering our future with their imaginations and tenacity, just as they are propelling these JetToys with balloon power," David L. Schutt, PhD, Chief Executive Officer of SAE International, said. "SAE International thanks Kia Motors for their generosity and continued support of this important learning endeavor."
The event was held at the Georgia International Convention Center in Atlanta, and included students from Troup County, GA.; Lanett, AL.; Harris County, GA.; Meriwether County, GA.; Carroll County, GA; and Chambers County, AL. Dozens of volunteers from KMMG supported the event by judging the competitions.
"We have more than 40 team members serving as mentors in the classroom and volunteering here today," said Stuart Countess, Chief Administrative Officer, Kia Motors Manufacturing Georgia. "Our goal is to bring text book lessons alive and help students realize the skills they are learning have real world applications in the workplace."
In the JetToy curriculum, a fictitious toy company called EarthToy Designs presents the challenge in the form of a letter. The company requests that students provide a variety of interesting designs for a new line of balloon-powered vehicles made from inexpensive, common materials that will appeal to other children. Working in design teams, students build and test model JetToy cars, and collect and analyze data to understand the effect of several variables on the performance of the toys. They create multiple designs and test them, then give a formal presentation of their final JetToy designs.
Throughout the curriculum and during the November 15 competition, students explored the scientific concepts of jet propulsion, friction, air resistance and design, as well as soft skills such as collaboration, problem solving, innovative thinking and teamwork.
AWIM is a teacher-administered, industry volunteer-assisted program that brings STEM education to life in the classroom for students in Kindergarten through Grade 8. Benchmarked to the national standards, the AWIM program incorporates integrated STEM learning experiences through hands-on activities that reinforce classroom STEM learning.
About SAE International
SAE International is a global association committed to being the ultimate knowledge source for the engineering profession. By uniting over 127,000 engineers and technical experts, we drive knowledge and expertise across a broad spectrum of industries. We act on two priorities: encouraging a lifetime of learning for mobility engineering professionals and setting the standards for industry engineering. We strive for a better world through the work of our philanthropic SAE Foundation, including programs like A World in Motion® and the Collegiate Design Series™.
About KMMG
Kia Motors Manufacturing Georgia, Inc. (KMMG) is the first manufacturing site in North America for Kia Motors Corporation based in Seoul, Korea. With an annual capacity of 340,000 units, KMMG is located on 2,200 acres in West Point, Georgia, and began mass production on Nov. 16, 2009. KMMG is home to the Sorento SUV and the Optima mid-size sedan, two of the brand's top selling models in the U.S. Beginning in the first quarter of 2019 KMMG will officially launch production of the Telluride, the largest SUV in the Kia family of vehicles.