Posted on May 14th, 2019 by Patrick Sands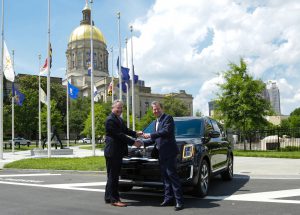 (Atlanta, GA.) May 14, 2019 – Recently, representatives of Kia Motors Manufacturing Georgia, Inc. (KMMG) presented Georgia Governor Brian Kemp with a new, Georgia-assembled 2020 Kia Telluride. The Telluride was handed off to the Georgia Department of Public Safety (DPS) with Governor Kemp and Department of Public Safety Commissioner Colonel Mark McDonough attending to receive the vehicle on behalf of DPS.
"We are so proud of the Kia team in West Point, Georgia for making such an amazing vehicle," said Kemp. "Their dedication to quality and hard work is an inspiration across our state, and I look forward to continuing our strong relationship in the future."
Stuart Countess, KMMG's chief administrative officer, thanked Kemp and his team for their leadership and commitment to the state's businesses.
"The Telluride has been a runaway hit for the Kia brand and we could not be happier to have its production headquartered here in Georgia," said Countess. "Governor Kemp is such a great partner for KMMG and we are honored to present this vehicle to the state."
Caption: Pictured, Stuart Countess, the chief administrative officer for Kia Motors Manufacturing Georgia, presents keys to a 2020 Kia Telluride to Georgia Governor Brian Kemp.
# # #
About KMMG: Kia Motors Manufacturing Georgia, Inc. (KMMG) is the first manufacturing site in North America for Kia Motors Corporation based in Seoul, Korea. With an annual capacity of 340,000 units, KMMG is located on 2,200 acres in West Point, Georgia, and began mass production on Nov. 16, 2009. KMMG is home to the Telluride SUV, Sorento SUV and the Optima mid-size sedan.