Interested in working for Kia Georgia?
The foundation of our success is our team. We appreciate the hard work of each team member and dedication to continuous improvement. Kia Georgia strives to maintain a fantastic work environment focused on one system, one team.
Everyone that works for Kia Georgia is referred to as a team member. We firmly believe that our ability to successfully build a bright future for the company is directly related to our ability to work together as a team. This requires a mindset that each team member is an equally important part of the company.
We are organizationally structured to foster teamwork.
Each team member, regardless of functional assignment, strives to find ways to work in support of the "one team" concept necessary for accomplishing the goal of being the best and most innovative automotive company in the world.
Our functional teams are aligned horizontally and vertically through effective collaboration supported by effective two-way communication, cooperation and spirit of challenge. All this is done with the belief that people are the heart and soul of Kia Georgia.
What type of benefits and compensation do jobs at Kia offer?
At Kia Georgia our team members are our strength. That is why we offer a comprehensive compensation and benefit package that is competitive and flexible, designed to contribute to team members' and their families' well-being, financial security, satisfaction, and work/life balance.
Hourly:
Production Team Member:
Start: $17.25/hr.
Top-Out: $26.40/hr.
Maintenance/Die Maintenance
Team Member:
Start: $24.20/hr.
Top-Out: $31.00/hr.
2nd Shift Premium: $2.00/hr.
3rd Shift Premium: $1.50/hr.
Salaried:
Base Pay
Annual Merit Increase
Consideration
Overtime Pay (to eligible
team members)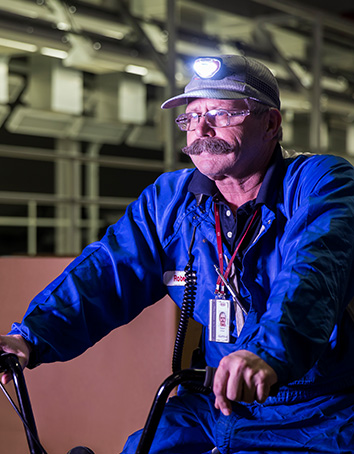 Health & Welfare benefits, programs & Services
Medical, Prescription Drug, Dental & Vision
Basic & Dependent Life
Accidental Death and Dismemberment
Short & Long-term Disability
401(k) Savings Retirement Plan
Health/Dependent Care Flexible Spending Accounts
Paid Time Off
Paid Holidays (annual average of 14)
Perfect Attendance Incentive
Basic Skills Education, Training, & Development
Tuition Reimbursement Program
Team Member Assistance Program
Group Auto & Home Insurance (discount rates)
Team Wear
Kia Vehicle Purchase Program
Safety Glasses and Shoes
Occupational Health Center and Onsite Gym
Team Member Service Awards
24-Hour Fire, Police & Security Protection (onsite)
Onsite Banking Center & Cafeteria
Career Opportunity System
Interested in starting a career with Kia?
This link leads to the machine-readable files that are made available in response to the federal Transparency in Coverage Rule and includes negotiated service rates and out-of-network allowed amounts between health plans and healthcare providers. The machine readable files are formatted to allow researchers, regulators, and application developers to more easily access and analyze data.