Posted on March 18th, 2014 by Patrick Sands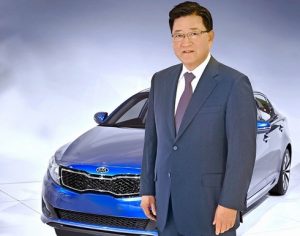 –          Under Mr. Ahn's leadership, U.S. sales exceeded 500,000 units in 2012 and 2013, outselling many older and more established brands
–          Mr. Ahn will continue overseeing Kia Motors America (KMA) and Kia Motors Manufacturing Georgia (KMMG)
(SEOUL) March 18, 2014 – Kia Motors Corporation announced today that Byung Mo Ahn has been promoted to Vice Chairman of the global automaker.  In his new role as group vice chairman and CEO of Kia Motors America (KMA) and Kia Motors Manufacturing Georgia (KMMG), Mr. Ahn will continue to lead the implementation of the brand's long-term strategy in the U.S. as the product portfolio, customer base and units in operation continue to expand.  He previously served as the group president and CEO of KMA and KMMG since 2008.
During Mr. Ahn's tenure, Kia's U.S. sales have nearly doubled and the West Point, Georgia-based manufacturing plant, which began production in 2009, has produced more than 1.2 million vehicles. In 2013, the Optima midsize sedan assembled at KMMG was KMA's best-selling vehicle and set an all-time, single-nameplate annual sales record for the brand at 155,893 vehicles, while sales of the iconic Soul urban passenger vehicle increased for the fourth consecutive year.
2014 marks Kia's 20th anniversary in the U.S., and Mr. Ahn's promotion furthers the organization's efforts to concentrate on quality, strengthen the brand, elevate the ownership experience and identify new segments for growth.  Following the launch of the Cadenza premium sedan in 2013, KMA is currently introducing the K900 luxury sedan, which signals the beginning of a new era for the brand in the key global market of the United States.
Mr. Ahn possesses more than 37 years of experience with the Hyundai Motor Group where he has held various positions with Kia Motors Corporation and Hyundai Motor Company.  From 1999 through 2001, Ahn was president and CEO of KMA. He previously served as executive vice president and COO of Hyundai Motor Company, responsible for overseas business operations including supervising the production activities of nine factories worldwide.
###
About KMMG
Kia Motors Manufacturing Georgia, Inc. (KMMG) is the first manufacturing site in North America for Kia Motors Corporation based in Seoul, Korea. With an annual capacity of 360,000 units, KMMG is located on 2,200 acres in West Point, Georgia, and began mass production on Nov. 16, 2009. KMMG is home to the Sorento CUV and the Optima mid-size sedan, two of the brand's top selling models in the U.S.