Posted on May 20th, 2015 by Patrick Sands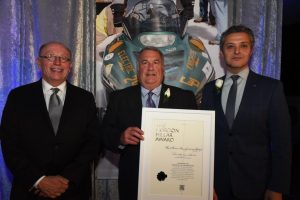 (PLYMOUTH, Mich. May 20, 2015) – Kia Motors Manufacturing Georgia has been named winner of the fifth annual SAE Foundation Gordon Millar Award. Randy Jackson, KMMG's Senior Vice President of Human Resources and Administration, accepted the award.
The award, which is funded by AVL, is given in special recognition of an individual or organization that best demonstrates continuous philanthropic support of the SAE Foundation Mission to encourage and increase student participation and achievement in science, technology, engineering, and mathematics.
"KMMG takes a one-team approach to everything they do both at work and within the community," said Don Manvel, Chairman, AVL Americas. "That includes an unwavering dedication to STEM education and helping young people in their surrounding counties become a productive and valuable workforce for tomorrow."
"We're excited and fortunate to be in a position where we can help students in both Georgia and Alabama become not only future potential team members, but also people who enrich their communities by being excellent problem solvers and analytical thinkers," said Jackson. "The SAE Foundation does a phenomenal job helping students become innovators who provide practical solutions to everyday problems. We are honored to accept this award that so embodies everything we believe in."
About KMMG
Kia Motors Manufacturing Georgia, Inc. (KMMG) is the first manufacturing site in North America for Kia Motors Corporation based in Seoul, Korea. With an annual capacity of 360,000 units, KMMG is located on 2,200 acres in West Point, Georgia, and began mass production on Nov. 16, 2009. KMMG is home to the Sorento CUV and the Optima mid-size sedan, two of the brand's top selling models in the U.S.
About SAE Foundation
The SAE Foundation is the charitable arm of SAE International that strives to encourage and increase student participation and achievement in science, technology, engineering and math through many programs, including A World In Motion® and the Collegiate Design Series.
About AVL 
Founded in 1948, AVL Worldwide is the world's largest independent company for development, simulation and testing technology of powertrains (hybrid, combustion engines, transmission, electric drive, batteries and software) for passenger cars, trucks and large engines. AVL's North American Headquarters are located in the Detroit suburb of Plymouth, Michigan. For more information, contact Chris Barecki, AVL Americas Marketing Manager, at chris.barecki@avl.com or 734.738.8778.
###
Caption: 2015-5-20 Gordon Millar Award – KMMG
Don Manvel, Chairman, AVL Americas, Randy Jackson, Kia Motors Manufacturing Georgia Senior Vice President of Human Resources and Administration, and Mazen Hammoud, Chairman, SAE Foundation Board of Trustees