Posted on June 7th, 2018 by Patrick Sands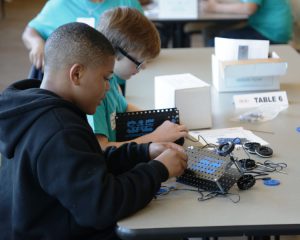 WARRENDALE, Pa. (June 7, 2018) – Kia Motors Manufacturing Georgia, Inc., welcomed 50 Troup County, Ga., middle school students last month to its manufacturing plant in West Point, Ga. The students participated in SAE International's Motorized Toy Car competition.
SAE International's Motorized Toy Car Challenge is part of the award-winning A World In Motion® (AWIM) program. The challenge is designed for middle school students whose teachers are using a multidisciplinary approach. Over the course of the curriculum, students develop a proposal and a prototype for an electric gear-driven toy of their own design. In the Troup County Schools, this year's program culminated in a friendly competition where students (in Engineering Design Teams of three or four) competed in a 15° Ramp, 30° Ramp, and Speed Competition.
"We had a tremendous event at Kia. It's exciting and encouraging to watch tomorrow's engineers at work," Chris Ciuca, Director of Pre-Professional Education for SAE International, said. "SAE International thanks Kia Motors Manufacturing Georgia for their generosity and continued support of this important learning endeavor."
AWIM is a teacher-administered, industry volunteer-assisted program that brings science, technology, engineering and math (STEM) education to life in the classroom for students in Kindergarten through Grade 8. Benchmarked to the national standards, the AWIM program incorporates integrated STEM learning experiences through hands-on activities that reinforce classroom STEM learning.
About SAE International
SAE International is a global association committed to being the ultimate knowledge source for the engineering profession. By uniting over 127,000 engineers and technical experts, we drive knowledge and expertise across a broad spectrum of industries. We act on two priorities: encouraging a lifetime of learning for mobility engineering professionals and setting the standards for industry engineering. We strive for a better world through the work of our philanthropic SAE Foundation, including programs like A World in Motion® and the Collegiate Design Series™.
About KMMG
Kia Motors Manufacturing Georgia, Inc. (KMMG) is the first manufacturing site in North America for Kia Motors Corporation based in Seoul, Korea. With an annual capacity of 360,000 units, KMMG is located on 2,200 acres in West Point, Georgia, and began mass production on Nov. 16, 2009. KMMG is home to the Sorento SUV and the Optima mid-size sedan, two of the brand's top selling models in the U.S.