Kia Georgia, Inc. is the first manufacturing site in North America for Kia Motors Corporation based in Seoul, Korea. With an annual capacity of 340,000 units, Kia Georgia is located on 2,200 acres in West Point, Georgia, and began mass production on Nov. 16, 2009. Kia Georgia is home to the Telluride SUV, Sorento SUV and the K5 mid-size sedan.
A few of the many significant events for Kia Georgia
through the years include:
1
March 13, 2006
Kia Motors Corporation announced that it will build its first U.S. plant in West Point, Georgia.
2
October 20, 2006
Groundbreaking on the site of Kia Georgia.
3
November 16, 2009
Start of production for the Kia Sorento, the first U.S.-built Kia product.
4
February 26, 2010
Grand Opening for Kia Georgia.
5
September 2, 2011
Start of production for the Kia Optima.
6
January 2, 2012
Completion of an expansion at Kia Georgia to bring total capacity to 360,000 vehicles annually.
7
July 11, 2013
KMMG produces its 1 millionth vehicle.
8
September 28, 2015
Kia Georgia celebrates the start of production of the 2016 Kia Optima.
9
March 29, 2016
Kia Georgia produces its 2 millionth vehicle.
10
June 28, 2016
Kia tops J.D. Power's 2016 Initial Quality Study.
11
June 2017
Kia tops J.D. Power's 2017 Initial Quality Study for the second year in a row.
12
February 18, 2019
Kia Georgia celebrates the start of production of the 2020 Kia Telluride.
13
February 1, 2022
Kia Georgia celebrates the launch of the 2023 Kia Sportage.
The guiding principles are easily stated: "Provide high-quality, high value vehicles at prices well below the competition and back them up with the Kia 10-year/100,000-mile Warranty Program and a customer-first policy."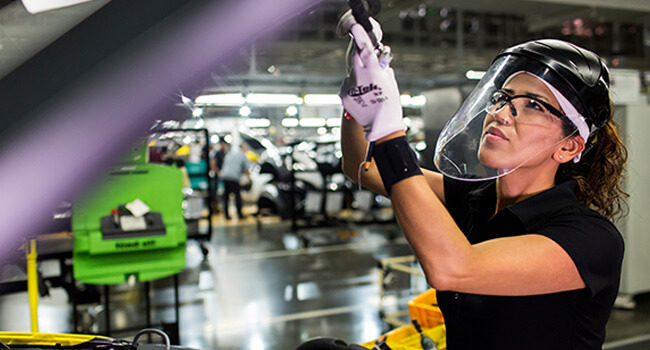 Safety is always the priority, from concept to crash test. Kia is determined that every one of its vehicles should always be as safe as possible, and this goal is ensured by a rigorous system of collision tests and simulations. Right up until the finished vehicle reaches the customer, Kia maintains a thorough customer-oriented quality control system, precisely assessing the customers' needs and demands to enhance the production process.